Events constitute a large share of the overall spends for many developers, playing a role as one of the most effective channels in the marketing stack. Given the power of live experiences, this is not surprising.
But, what is essential is that each event is planned to have maximum impact and bring maximum returns in terms of awareness, leads or sales. That's where marketing - of the event and after the event - comes into play.
By using technology, data and analytics, event marketing can also be seamlessly implemented across all other marketing channels.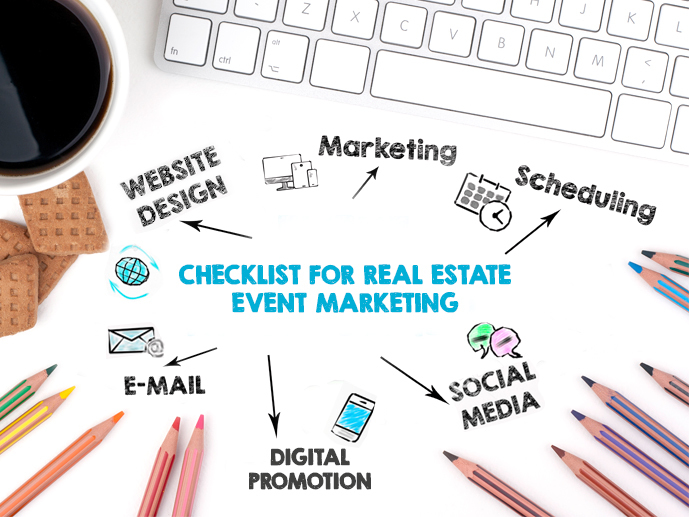 Here's a quick checklist to ensure you're on your way to a successful, impactful event for your brand or project:
Know Your Event & Audience
The first step in event planning involves understanding the event and its purpose. For example, if you want to create a buzz around your project launch you can organize an event with your channel partners and existing leads, while if you want to create awareness about your project you would want to throw an open event with some star attractions. By breaking down the objective for your event, you will create a blueprint for your marketing plan.
Event Email Marketing
With the right event email marketing, you can get the largest and most relevant audience. According to Hubspot, more than 75% of B2C companies employ email marketing as the top tool for promoting their events. It's important to build a buzz around the event and engage your registrants so that they start talking before, during and after the event. Word of mouth will do wonders, even for a closed event!
Targeted email marketing campaigns to your existing project leads or intended audience will significantly drive registration

Allow recipients to RSVP directly from the emailer, so you know how to plan ahead

Keep emailers consistent with your event website for maximum recall

Pre-schedule emails and automate updates to maximize registrations

Analyze open and click-through rates to see what's working and what's not
Publicize on your Website
If you already have a website or a landing page, make sure to put up the information about your event on it. This ensures that your website visitors will be aware of the event. If you aren't planning on open registration, you can post updates on your website after the event instead! The idea is to leverage maximum buzz, either before or after the event.
Promote with Social Media
Social media is one of the best ways to promote what's happening with your brand. For an event, if your demographic tends to use any particular platform the most, then focus your promotional energy on that platform to maximize reach while minimizing spends.
Create an event hashtag and stick with it

Run contests to engage your attendees to share online

Leverage influencers to gain other attendees

Post personalized content consistently

Interact regularly with followers
And as with the website, if you don't want to invite registrations simply use social media to post event updates after it's done!
Checklist for big events
When you want to host an event that maximises awareness about your brand or project, you can go all out and arrange big affairs with celebrity performances, or competitions, fairs and more. You can also use paid promotions and approach sponsors to build on the scale.
While it's easy to use free promotional platforms for your event, paid promotion is still extremely effective. Maximizing your reach and in turn, registrations will boil down to how much budget you allocate to advertising. If your event allows for a large budget, reach out to a wider demographic on the right platforms with the right communication. Registrations are bound to follow.
Other vital avenues where you can market your event include getting influencers on board, investing in content marketing and creating word of mouth. When you think about it, there are endless ways to promote your event. You just have to find the mediums that will work for your event.
Make sure that you actually leverage the buzz and footfall that this large an event would create. After the event, stay at the top of your consumers' minds with email marketing, SMS marketing and social media targeting.
Best Practices
Before we conclude, here are some event marketing best practices no matter your objectives:
Understand the goals and budget of the event

Create a plan to meet event goals

Schedule promotions in advance based on important event dates

Set up a thorough lead generation touchpoint at the event, or before the event on the website

Reach out to the leads you get in a smart manner to ensure the event has an actual ROI for your business!
You can also leverage your CRM tool's email marketing and telephony features to streamline communication pre-event and handle lead volumes effectively after the event. Remember, your highest intent audience will have your brand at the top of your mind for only a couple of days after the event - it's important to act soon in an organised manner and turn those leads into sales or referrals!
Take a look at Sell.Do's campaign tracking, email/SMS marketing, lead nurturing and sales interaction tracking.