The pandemic has had a huge impact on the Indian real estate industry within just a period of 5 months. First, the pandemic brought the industry to stand still in terms of operations as well as sales. Now, even though the lockdown has been lifted, the industry still finds itself in a limbo because of the level of uncertainty we still ourselves in.
Homebuyers are still wary of visiting sites and buying properties. Which has left developers mulling over their own future and of the industry.
Homebuyers to the rescue?
To get a clear real estate industry analysis, we decided to approach the demand side of the industry, that is, the customers. We wanted to gauge their outlook towards real estate by finding answers to various questions like what they are feeling about buying a home, if the pandemic has impacted their decision and how, what their expectations from developers and so on. It is important for real estate developers to understand the perspective of homebuyers as the revival of the industry depends on property sales and cash flow.
We recently conducted a customer survey to understand the perspective of homebuyers who were looking for properties between December 2019 and March 2020, within a budget range of ₹50 Lac to ₹75 Lac. Here are some interesting findings:
Findings of the Survey
Question #1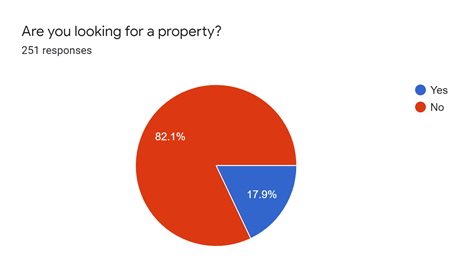 It is evident that the pandemic has caused a major drop in the demand for properties. However, we deep dived further to understand the reason behind this.
Customers not looking for a property anymore:
Question #2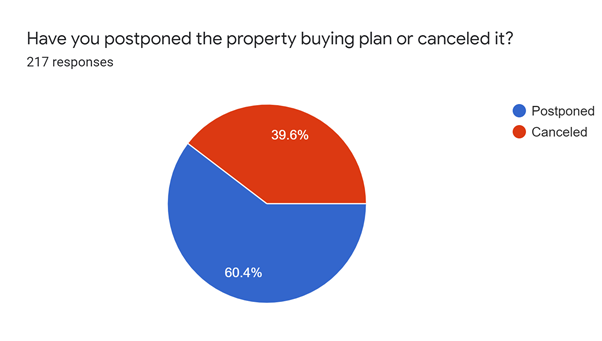 Though 82% of customers are not looking to buy a property, it was relieving to find out that 60% of them have just postponed their purchase. This is good news for developers. Through the right strategies, developers can nurture such homebuyers and convert them into customers when they decide to make a purchase.
Question #3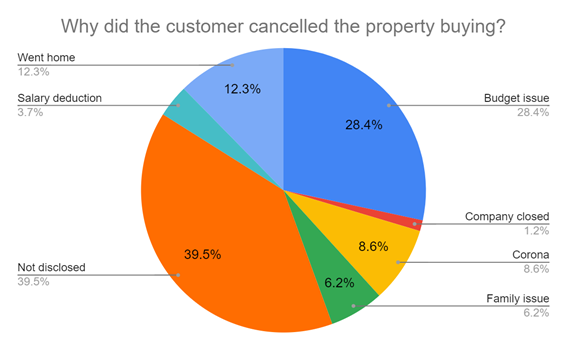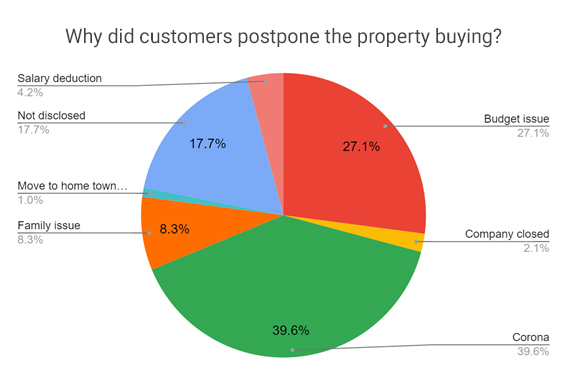 From this pie chart, it can be inferred that the pandemic has impacted the finances of the majority of customers, which has eventually led to postponing of homebuying plans. Real estate developers have the opportunity to attract this pool of customers through financial offers and schemes.
Customers looking for a property:
Question #4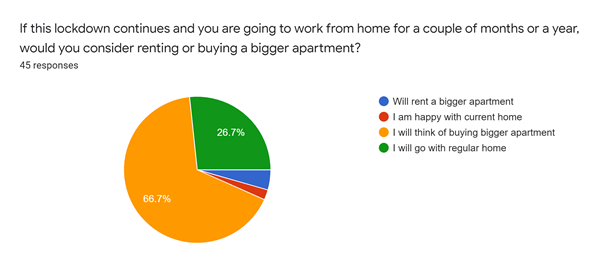 The pandemic has brought a significant change in the lifestyles of customers. Since work from home may become the new norm, we wanted to know if it had impacted the perspective of homebuyers in any way. Our assumptions were substantiated when we found out that about 67% of the customers now want bigger homes. Real estate developers can rejoice as their higher inventories have more scope of sales now.
Question #5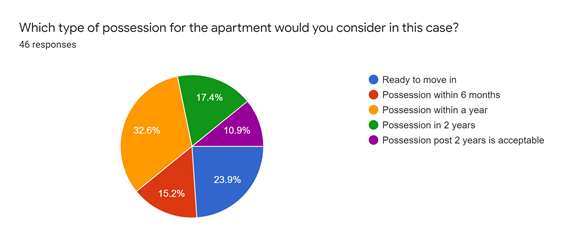 Though the opinions on this one are scattered, it is evident that the vast majority of customers want a property with possession within one year. The takeaway for developers from this can be to focus on their ready possession projects for some time now, and manage the work of under-construction projects accordingly.
Question #6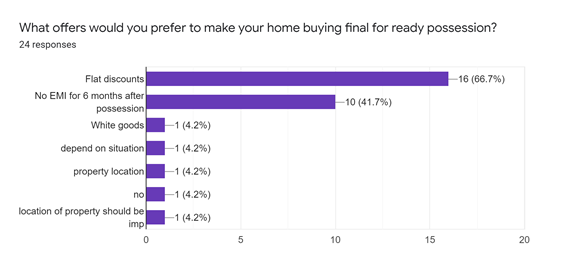 It was observed that financial instability was one of the main causes for cancellation/postponement of property purchase. It is evident that financial offers can significantly influence the buying decision. Developers can either provide offers or can come up with their own smart schemes to attract homebuyers.
Question #7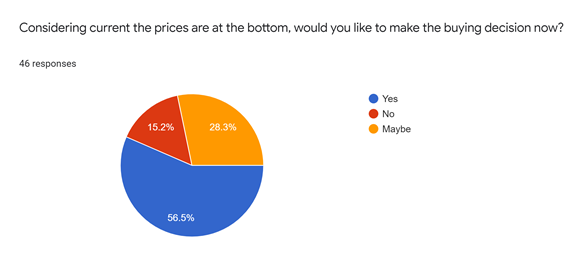 If real estate developers have slashed down their property prices, they might be able to attract a good number of homebuyers. Those who haven't, should either consider it or provide other financial incentives to get revenues back on track.
Survey Takeaways
It is said that 'in chaos lies opportunity', which is what this survey affirms. Though some homebuyers have changed their decisions to buy properties entirely, real estate developers still have a substantial pool of customers ready for investment opportunities.
Financial offers are just one way of influencing customer decisions. Developers can also make improvements on the customer experience front to garner their attention.
For example, health is the topmost concern for customers right now. Since the pandemic hasn't passed yet, they are reluctant to visit project sites physically. To tackle this issue, real estate developers can employ real estate CRM software like Sell.Do. Sell.Do is a platform for online real estate sales with contactless features like virtual tours, real-time inventory and e-payments.
Sell.Do can make the real estate buying experience completely effortless and contactless for homebuyers, thereby giving developers an edge. With the power of technology and the leverage of offers, developers can overcome COVID-induced challenges and get their businesses back on track!
Sell.Do is the best CRM for real estate as it is developed by industry experts. Through end-to-end automation, it helps real estate businesses move their processes online and sell in a better way. To get a clear idea of its features and benefits, schedule a free demo today.