As a Real estate professional, you'll need a way to maintain your contact database as well as an email marketing platform to deliver your newsletters, real estate advertising campaigns, and one-time bulk emails to your contacts.
With over 3.9 billion active users worldwide, email marketing is one of the most prevalent means of marketing today. It's a fantastic way to communicate with your customers, with a plethora of options for providing information. Combining your email campaigns with a customer relationship management (CRM) system is one of the greatest methods to ensure that you're sending the appropriate material to the right crowd. Keep reading to learn how CRMs may help your email marketing efforts, the advantages of using a CRM-enabled email marketing solution, and some of the best all-in-one systems.
What is a CRM?
CRM software aids in the management of your business's relationships and interactions with current and potential clients. A CRM's goal is to help you enhance and improve your customer interactions while also streamlining your sales and marketing procedures.
The following are the functions of a CRM platform:
Management of contacts
Sales management
Productivity of the agents
Managerial leadership
Analytics and reporting
Management of pipelines
Automation of work processes
Your organization's critical customer information, such as contact information and records of previous contacts and sales, is stored in a centralized area with CRM software, where anybody in your company can access it. CRM is one of the fastest-growing enterprise application software categories, so it can be beneficial for your company to implement one.
What is the relationship between a CRM system and email marketing?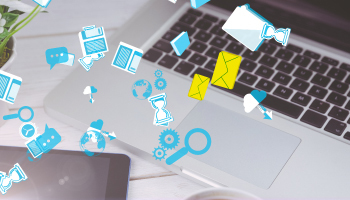 CRM is useful in email marketing, where tailoring content to your target audience is critical to success. CRM software gives you access to a lot of the data and information you need to run customized email marketing campaigns. CRM email marketing focuses on the email receiver rather than a vast, generic audience, resulting in more earnings and more satisfied customers. Many email marketing systems integrate with CRM software or have their own CRM built in. CRM software will work with email marketing in the following ways:
Information about leads and customers is synced with other platforms.
Sending internal warnings via automation for things like scheduled calls and follow-up emails
Identifying where a specific consumer is in the sales funnel.
Keeping track of a customer's interactions with your company
Within the funnel, identifying a potential consumer
Providing detailed information to enable the organization to send personalized emails.
What are the benefits of email and CRM for marketers?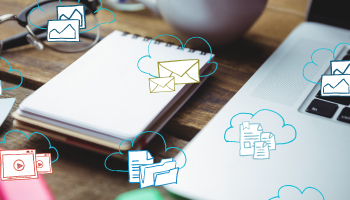 Despite fears that it would be replaced by other digital marketing mediums (like paid ads, social media etc.), email marketing remains a cornerstone of the marketing industry. By 2023, the email marketing sector is expected to develop steadily, with 4.3 billion global email users. CRM is also growing rapidly, and it has overtaken the United States as the world's largest software industry.
It is critical that you combine CRM and email branding into your marketing plan as a manager. They combine their experience, resources, and technologies to help you get your content and message out to the proper people.
A CRM's main aim is to monitor and develop your company's relationship with its customers, and a strong customer connection is crucial to its success. A CRM gathers data on each client and lead, such as which goods they buy the most, how frequently they contact your firm, who they chat with, what they engage in, and much more.
This precise information can then be used to deliver targeted email campaigns that highlight the customer a relevant product they could be interested in or notify them towards something left in their basket. This can tell you where the gaps in your sales funnel are.
What distinguishes CRM email marketing from other types of email marketing?
There are a number of important elements to look for in a CRM and/or email promotional tool, but these are some of the noteworthy features in particular that you should observe:
Testing and analytics

A CRM-enabled email marketing platform provides a constant supply of up-to-date customer information, as well as the tools needed to evaluate data, test different campaigns, and adapt your approach as needed. For example, analytics may tell you how many people clicked on the link in your last email campaign and how successful it was.

Nurturing the leads

At each level of the sales pipeline, or buying cycle, lead nurturing is the process of creating and growing connections with consumers. Many CRM-integrated email marketing tools automate portions of this process, saving you effort / expense.

Integrations

Verify that an all-in-one tool interfaces with other software and services, such as Salesforce, Sale.do or other marketing platforms, if you're looking for an all-in-one tool. Integrations enable you to expand your capacities and provide better service to your target audience. By connecting with Outlook, for example, you'll be able to deliver automated email campaigns to subdivided contact lists from a single platform.

Automation

The process of automating processes that would otherwise be handled manually is known as marketing automation. Your workers' time is freed up to focus on other, more vital activities thanks to automation. Drip campaigns, lead scoring, and task notifications can all be automated.
How Sell.do solves your Email Marketing Problems
With integrated email, you can save time.

Sell.do allows your sales team to send emails directly from the platform. Doing so ensures that they're giving the proper information to their leads at the right moment, whether personally or in bulk, or even scheduling them for later.

Keep track of how effective your email marketing is.

An email sent does not imply that the work was completed successfully; you must constantly know how many of the bulk emails you sent were received, how many of those were opened, and how many receivers clicked on the email or call-to-action. You can keep track of everything from Sell.do your email marketing and figure out how effective it is.

At the same time, contact all of your leads.

You can schedule emails to be sent out in bulk, reaching all of your leads or several leads at once, whether you have an email to send to all of your leads at one step or just want to send holiday pleasantries.

Make your emails truly unique by personalizing them.

Sell.do's personalized email templates enable you to send out mails that accurately match your brand while allowing your team to create it quickly. There will be no lengthy design work or delays here!