Real estate buying in India, from a buyer's perspective, involves average spending of around INR 45-50 lakhs. Moreover, the buying and the decision-making process involves multiple considerations and are, in general, complex. The real estate sales cycle, unlike other B2C industry segments, is around 30-40 odd days on an average. Hence, we can safely say that the real estate industry is the B2B of B2C industries.
Organizing your real estate sales with the help of a real estate CRM strategy and engaging with your buyer's strategically between "site visits" and "booking" increase both the conversion rate as well as the return on marketing investments (RoMI). Let us see how!
In our article on "What is CRM?" we saw the classic marketing funnel. Here, we shall focus on the bottom of the funnel, i.e. "closure" and see how having a real estate CRM can benefit in improving conversions. But before that, it is imperative to understand what happens between site visits and booking from a buyer's perspective.
What real estate sales and marketing professionals must understand is that theirs is not the only site a buyer visits. Recently, one of my acquaintances was looking for a house for end use. In his purchase journey, he had already visited around 20 odd sites in 40-45 days. Upon inquiring about his top picks, he remembered only two to three properties out of the twenty he saw in spite of at least 50% properties matching his criteria.
So how can marketers drive buyer's intent? Or how can real estate sales reps increase their "site-visits" to "booking" ratio?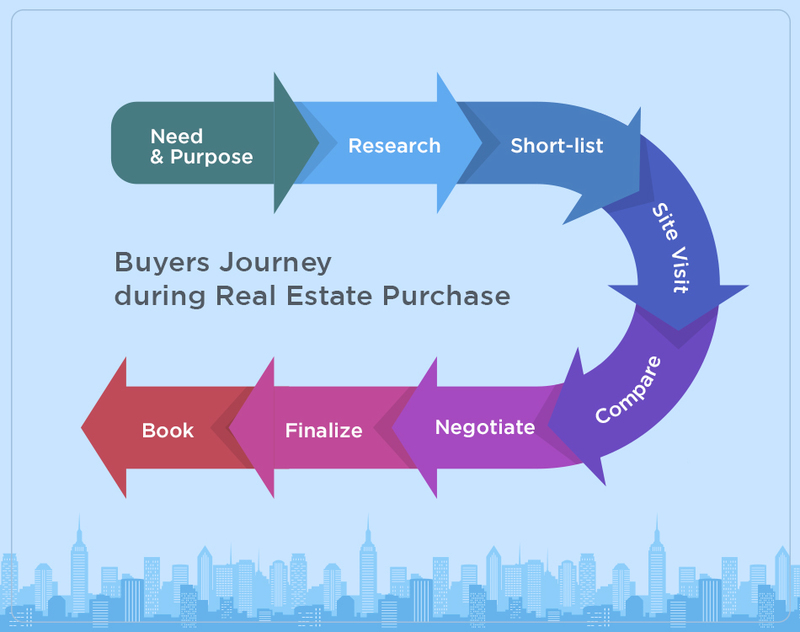 What we have observed is, marketers put more time and effort during the "need & purchase" and "research" phases of a real estate buyer while almost invariably ignoring communication with leads who have completed their site visits. These are the most engaged leads, yet they are the least communicated within the majority of the cases.
Having a real estate CRM will allow you to create a "smart list" of all those leads who have undergone site-visits. Marketers can create relevant communications like email/SMS which highlights "advantage of buying from [their brand]", "the current value of their previous projects", " building a strong resident community and satisfaction index of last projects" and finally, " offer and discounts upon booking within a certain time window".
While for real estate sales, a real estate CRM with integrated cloud telephony will let them communicate and schedule follow-ups on a time-to-time basis through auto-follow ups and auto-reminders. Additionally, sales reps can share and send information and scheme updates using built-in email and SMS functionality and update buyers about the booking pace. This creates a sense of urgency, compelling the prospects to book fast.
In most cases, the key to having a strong brand recall depends on how regularly a brand communicates with buyers. To stand out from the clutter and be among the top 3 out 50 real estate projects your buyers remember, you need to have a proper communication plan for the site-visit and booking phases. And having a real estate CRM will help marketing and sales to keep it organized, automated and regular. Upon taking a survey of real estate developers using Sell.Do, we found out that having a real estate CRM increased site-visits to booking ratio by 20%.
Let us take the project launch scenario now. What happens during a heavyweight project launch?
You have more site visits than normal and not every sales rep on site will have the flexibility to add those 50-100 visitors' data into the spreadsheet manually. However, if say, 30-40% of your visitors are the ones who had already scheduled a visit, or has engaged through marketing campaigns, it becomes easy to update those on your real estate CRM. For the remaining 50-60% direct walk-ins, you have a mobile real estate CRM with a simple lead form. You can easily capture the data, set them on the nurturing list and keep a regular communication.
Today, technology allows a lot of room for sales reps to stay productive and spend more time on what they are good at, i.e. selling. And a real estate CRM is one such tool that not only improves sales productivity but also offers a superior brand experience to buyers.